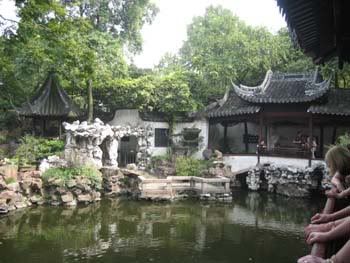 Hi Everyone,
After an all too quick six day turn-around in Sydney, I flew into China on 9 Oct to escort a small group on our Icons of China, Vietnam and Cambodian Interlude tour.
First stop - Shanghai. It is 3-4 years since I was last in Shanghai and if possible the city is more virbant than ever. High-rise buildings have popped up like mushrooms. The colourful night lights around the Bund are truly dazzling. Nanjing Rd - China's # 1 street shopping as is still buzzing and the old men's jazz band at the Piece Hotel continues to play all the old favourites. The city is 'alive' and already preparing to sponsor Expo in 2010.
Jimmy, our excellent city guide was proud to show off the highlights of his city and there are many, both modern and traditional. A favourite is the wonderful 400 yr old classical Yu Garden with two hectares of ponds, rockeries, fabulous plants and traditional pavilions - the four elements of a Chinese garden - water, buildings, rocks and plants. Designed and constructed by a son for his parents pleasure and happiness, this tranquil garden took 15 years to complete and was originally much larger.
From traditional to modern - the super-speed elevator up 88 floors in 45 seconds to the observation deck of the Jin Mao Tower. You can imagine the spectacular view of metropolitan Shanghai plus one can look down inside and view the circular atrium of the Grand Hyatt Hotel.
Back to tradition - A tea ceremony in an elegant Tea House where I discovered it is Jasmine Tea I should have been drinking all these years to help sleep, no wonder the green Tea didn't work!! We thoroughly enjoyed a thrilling acrobats performance at China's Cultural Theatre Restaurant. Magnificent costumes and such a top performance from a very large cast of talented people. Not to be missed.
Another modern thrill, a ride on the spotless high-speed Maglev train to the airport for our flight to Xian - 40km in seven minutes, a smooth ride in armchair comfort with plenty of spacious luggage compartments (take note NSW Minister for transport!).
There are only two reasons that I could see one would visit Xian. The first is a must - the absolutely amazing Terracotta Warriors and their horses. Quite remarkable that these 6000 life sized soldiers in full battle dress were only discovered by accident when three farmers were digging a well in 1974. Only one of the pottery figures, a kneeling archer, was undamaged, the rest had been smashed during the revolution. Many warriors and horses have been carefully restored already and restoration continues. This Qin Dynasty army was originally made to guard the mausoleum of Qin shihuang and is indeed a magnificent archaeological wonder. The second reason to come to this industrial and polluted city is to visit the very impressive history museum. No other reason - the city haze was so thick one could barely see the buildings in the next block to our hotel - no kidding!

Onto Beijing with a population of 13 million, in full preparation to stage the 2008 Olympics. So much has been done already. I barely recognised the city. Gone are most of the Hutongs and old city houses. One hutong section only remains and is being renovated for tourism. Streets and roads have been widened, lovely avenues of trees and gardens planted. Many new high-rise buildings and renovations underway everywhere one looks. New buses, new taxis and expressways. In fact Beijing is undergoing a total 'face-lift' and 'spring-clean' which has brought an air of excitement to the old city. Even some buildings in the Forbidden City are already proudly sporting gleaming new colourful paintwork and gold-leaf. Others are taking their turn under wraps.
The one place in Beijing where there has been no change is Tiananmen Square; except maybe for the gorgeous display of five really cute Olympic mascots which represent five different sporting disciplines in the colours of the Olympic rings. A green swallow, an orange goat, red flame, black panda and a blue fish. I won't even attempt their Chinese names!
We were lucky to see the site of the yet to be completed Olympic village and Stadium - appropriately nick-named 'the birds-nest' a fascinating structure.
Of course the 600 year old Great Wall of China itself is the same, only the tourist area around the steps leading up to it is busier and more organised. Our local guide took pains to tell us that the wall was definitely not built to keep out the rabbits!! Ah the power of the TV commercial!
We walked the magnificent Sacred Way avenue lined with pairs of large animals each carved out of a single piece of white marble and visited The Sacred Ming Tombs.
Spread over 120 peaceful sq miles, 13 emperors are buried in individual tombs along with 23 empresses (do the math - some obviously had more than one wife). The many concubines are buried in separate tombs. Only three of these tombs are open to the public.
Of course we have been to the Cloisonne factory to see how the skillful oriental art-form is made. Copper objects are decorated with filigree patterns by hand with copper wire and fired before colourful enamel glazes are applied and fired again. Stunning work.
Also visited the silk corporation where 80 spider web thin layers of pure silk makes one doona - who could resist such a luxurious bargain at $100 queen size!!!
The weather in China was kind to us. Not too hot, a perfect time to tour this fascinating country. Another bonus for coming here anytime is the delicious local chinese dishes. Leaves the Bundanoon Chinese Restaurant wanting I can tell you.
Now in beautiful Vietnam; will leave our adventures here until my next email - besides the hotel pool beckons.
Cheers to all
Jeanette 19/10/06
Hello again, this time from Vietnam....
The first thing we noticed when landing in Hanoi from China was the rise in temperature and the humidity. Next; what seemed to be a sort of organised traffic chaos between cars, taxis, pedi-cycles and pedestrians almost clogging the roads. Vietnam has a population of 83 million, 4 mill live in Hanoi and 70% of these are aged between 18-40. I am convinced 99% of this 70% ride some sort of bike or scooter and each is equipped with at least 2 horns and there must be a national law that says each horn is to be blown every two seconds, because that is what they do!
Apart from that, Hanoi is a beautiful city with fascinating French colonial architecture blended with the oriental lifestyle. Very narrow beautifully coloured tall houses (there is a tax on width, not height or depth) called 'tube' houses by the locals.
There are beautiful tree lined boulevards and lakes; in contrast is the hustle and bustle of the old quarter where 40,000 people live per square meter. We explored this fascinating city section on pedi-cycyles and remarkably lived to tell the tale.
This country has seen so much conflict and yet the people are quick to smile very friendly and outgoing and proud of their cultural diversity. All they want is peace and to maintain their independence.
A stark reminder of their brutal history and fight to maintain this independence was our visit to the Hoa Lo Prison. Since 1896 thousands were imprisoned and tortured here, confined in tiny cells with chains and leg irons. From 1964-1973 it was used to detain American pilots shot down whilst bombing Nth Vietnam. The Americans called it Hanoi Hilton. Two thirds of the original prison was demolished in 1993 to make way for a high-rise apartment building. A corner has been preserved as a memorial to the revolutionaries incarcerated who gave their lives for this beautiful country. It was a very sobering visit.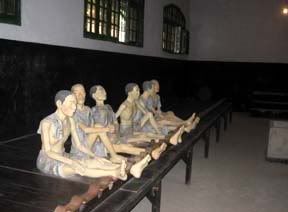 On a lighter note was our visit to a performance of Hanoi's unique Water Puppet Theatre. Very clever and colourful, unfortunately the background music was quite grating to western ears.
I was fascinated to see Ho Chi Minh's historic house on stilts surrounded by a beautiful fragrant flower garden and lake. This is where he lived and worked from 1958 -1969. The house has been preserved in respect to the national liberation hero and symbolizes his simplistic and modest way of living. Ho Chi Minh's embalmed body which is usually on display in a glass case in a magnificent stone and granite mausoleum, is away in Russia for two months for 'treatment'. Apparently this is done every year so we did not get to say hello to him.
If you are thinking of visiting Vietnam, definitely put the UNESCO world heritage site Halong Bay on your must see list. Over 3000 tiny limestone islands are dotted in 1500 sq km of breathtaking emerald waters. We cruised on a red junk and fine dined on fresh crab, prawns, squid and butter fish. Heaven!!
For the petrol heads - the 100 ft junk had a 4 cylinder, diesel indirect injection engine with a rotary pump!
I'm sure you would have heard about the typhoon which hit Danang and surrounds on 1 Oct. Our guide told us 80% of buildings lost roofs and around 60 people were killed. The damage is still evident and the cleanup and rebuilding around the area will take some time. We stayed in a beautiful five star resort in Danang right on China Beach. This resort is built almost on the spot where the US had their air-force base during the American war. Here we took full advantage of a rare free day to relax and lol around the hotel pools and swim in the very tepid water of the China Sea. Seems incredible that in the last two months I have swum in the Red Sea, the Agean Sea, the Mediterranean Sea, Dead Sea and now the China Sea. Actually I didn't really swim in the Dead Sea, sort of just bobbed around!
From Danang we drove through the rural villages and the Red River delta to visit Hoi An. Hoi An is another UNESCO World heritage site with distinct Chinese, Japanese and French influence. It is an old trading port which dates back to the 15th century. It was almost too hot to enjoy sight-seeing and definitely too hot to shop so we took a boat ride on the Thu Bone River which was wonderful. In a very welcome breeze we got up close and personal with many local fishermen and women and it was delightful to see the water buffalo and oxen herded across the river.
We are spending tonight in the rural area of Can Tho in the Mekong Delta. Early tomorrow we will go to the floating markets to see the boats loading in preparation for the day's trading before returning to Ho Chi Minh City (Saigon). It is fantastic to get out into the countryside and see first hand the traditional lifestyle of the rural people here.
After that we have two days to explore Saigon and to visit the Cu Chi Tunnels - the underground tunnel network constructed by Viet Cong guerrillas during the American war before flying to Siem Reap in Cambodia.
I'm particularly looking forward to seeing Angkor Thom and Angkor Wat.
This time next week we will be back in Sydney and a note to the home chef, I hereby place my order for bangers and mash please!
Until then, take care
Jeanette 22 Oct 06
Hi Everyone,
I flew into Sydney from Siem Reap Cambodia via Singapore Monday. Great to be back.
Just to finish off the last few days of the trip. Ho Chi Minh City, still called Saigon by many residents and tourists, is a safe vital city pulsating with life. Swanky streets are lined with fancy restaurants, art galleries, pricy boutiques and loads of souvenir shops. The city is very noisy so if you are booking accommodation here, make sure the windows are double glazed or take earplugs.
We stayed in total luxury at the beautiful old Majestic Hotel overlooking the river that is busy by day and alive with brightly illuminated river cruise boats at night.
I loved Saigon and would like to spend more time there. It is a shopper's paradise. The tourist dollar is important to the country but it is not necessary to pay the 'tourist' price. Where prices are not 'fixed', you can calmly bargain in a friendly manner and more than likely make your purchase at a greatly reduced price.
In a way I felt sad to leave Vietnam where these courageous and stoic people have struggled for centuries against rebellions, foreign occupation and devastating wars. The horrendous and brutal effects left by Agent Orange is heartbreaking. Another legacy of the various foreign invasions and the American War (we call it the Vietnam War) is the understandable mistrust of foreigners. Although this beautiful country is blessed with fertile river deltas and a climate perfect for cultivating crops especially rice, it still has to deal with typhoons, droughts and poverty and does so with astounding dignity.
A word of warning to animal lovers; Vietnam has restaurants which specialise in dog meat. Although we did not see one, we unfortunately saw at least 4 dogs callously crushed into a wire basket on the back of a bike. In response to our incensed anger to this sickening cruelty, without any embarrassment our local guide cheerfully told us that the dogs were on their way to be sold for eating and that black dogs bring the best price.
Although the flight to Siem Reap is short, our plane was delayed for over four hours which made it a long journey. We were lucky to arrive in perfect time to be taken to the highest Hindu temple built in 893AD. After a climb up many very steep, narrow, deep and uneven stone steps were rewarded by watching a magnificent sunset. As you know I have travelled to many wonderful destinations but standing on the top of the Bakheng temple was one of my most breathtaking and memorable sights. I was aware of a profound and wonderful sense of inner calmness - almost a spiritual experience. I suspect Monks live with this conscious sensation which would explain their peaceful demeanor and devotion.
The main road through Seim Reap is lined with a staggering number of top class hotels. Again we lived in luxury in the Raffles Grand hotel. The temple complex of Angkor just a few km from Siem Reap has many fascinating religious stone or brick buildings of the Angkor period. These temples are ornately decorated by series of mystical and religious motifs in Khmer sculpture.
The best known, largest and most famous of these architectural masterpieces of Cambodia is Angkor Wat.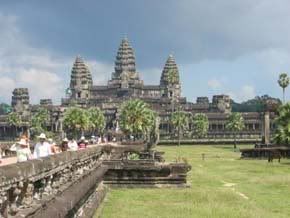 Angkor literally means 'city' and Wat means 'temple'. Monks have continuously occupied Angkor Wat which is now dedicated to Buddhism. Founded in 802AD it took 30 years to build. It is absolutely stunning. Two of us bravely climbed the treacherously steep uneven stone steps to the top of this well preserved building which is said to be probably the largest religious building on earth. Definitely put it on your 'must visit' list!